Latest News
Lythbound: Selachimorphan Sprucing Mini-Event!
Every year in the beginning of summer, underwater Lythians from the realm of Reenah celebrate a tradition passed down for many generations; the Selachimorphan Sprucing! Each Lythian holds a feast to gather sharks to their home, and while they're eating, they paint them with water-safe, natural dyes. Certain species take better to the paints, and if you get it just right, the shark's dyed scales can last through the year. Due to the sharks' skin texture, the paint stays on them for the whole month. Lythians above water watch in awe once the fish are released, and the ocean lights up with an array of proud, shining hues. If you're lucky, you'll get to befriend one of these colorful friends!
✦ Selachimorphan Sprucing Prompts
With the help of a helpful guide, anyone can visit Reenah for the festivities and establish a key there to travel in the future as well! With that in mind...
✦ Reenah? Where is that?
Guides are appearing across the realms to help bring new visitors to Reenah who may not have yet established their keys there.
Tell us about your Lythian preparing to travel to Reenah, or just arriving.
✦ Shark Painting
The sharks are here!
Is your Lythian helping to paint them? Or just enjoying the colorful display in Reenah's waters?
✦ Show Your Pride
The residents of Reenah also encourage visitors to display their pride in other ways this time of year.
Does your Lythian display a flag? Wear pride clothing? Perhaps they choose to simply display the rainbow of colors!
✦ Requirements
Your piece must earn you at least 20 Loonoles by Free Play guidelines.
This means you can choose what elements you'd like to include per submission.
There is no submission limit, so you can complete each prompt as many times as you'd like!
Submit them via the ARPG submit form under "Event Prompt."
They must be turned in by July 9th, 2020 @ 23:59:59 EDT to be eligible for rewards!
✦ Rewards


Completing at least one prompt gives you the "Selachimorphan Sprucing 2021" achievement!

You will also earn a level 0 familiarity key to Reenah with any Lythians that complete at least one prompt.
This key is permanent and unlocks the realm's regular quests to be taken on at any time.

As always, you earn Loonoles based on the piece(s) you submit.
Remember to claim the bonus + 5 (Event Quest) Loonoles!
✦ Shark Friends
In proper Lubina fashion, our friendly neighborhood pet shop has set up during the event as well and is offering a variety of shark friends to keep and care for year-round.
These sharks are permanent new additions to the Igroven Pet Shop!
✦✦✦
If you have any questions, don't hesitate to contact us!
---
IcePets: Halfway to Victory!
When you're occupied with questing and restocking, it's easy to lose track of time, so here's your reminder that we are now halfway through the Team Contest!


As of now, here is where all of the Teams currently stand:


In fourth place is Team Red Dovu with 56,236 Points.




In third place is Team Green Trido with 103,121 Points.




In second place is Team Blue Audril with 117,575 Points.




Finally, holding first place is Team Yellow Sharshel with 119,749 Points.


Remember that the Team Contest will run until June 24th, 23:59:59 IcePets Time, so it can still be anyone's game! With a whole week left to go, who knows what kind of surprises one of these Teams might pull?


Just like every year, the Summertime Surprise Basket has made its return! A fun, summer-themed Item lies within that beautifully woven basket. You can find it in all of the NPC Shops (except for Golden Touch). You can also receive it as a reward for completing any of the Quests. Get one while you still can, because they'll be going back into storage July 2nd, 23:59:59 IcePets Time.
---
Ichumon: The Moon won't rest..
Six waves of Binary and Mutated monsters have fallen. You have arrived at the last line of defense, Alice and Alexia personally!


VS


The Binary Queen, Alice, and the Hex Demoness, Alexia, will have a head-to-head clash of the titans on the Moon! They are calling on their allies who still can fight to give a final blow in each other's last line of defense!

Alice and Alexia ARE the toughest opponents that anyone has seen on the face of Ichua. Even now, they seem evenly matched. But there can be only one winner which will control the Moon's powers! Who will it be: Alice or Alexia? Go fight in the Palace of Alexia to give your team victory in this epic battle!

(Battle ends June 25th at midnight)

---
Ichumon: What Am I Results
Last week's round of What Am I has ended.

The item description was: This looks like the real claw in the machine.
The answer was: Claw Keychain.

17 out of 18 Ichuans answered correctly.

A new round of What Am I has started. Good luck!
---
Wajas: Coming soon, to a Friday near you!
Announcing: Friday Live! When: Friday, 6/18 at 7 PM EST (same time as Wajas) Where: Youtube! Join us for fun and games and great company! We'll see you there!
---
Powerpets: Keno is Conquered!
Congratulations to ralmap!
They managed to have all their numbers hit in Keno, giving them not only the top cash prize of 15,000,000 PB, but also a Captain Keno Stuffy.

If you want to be our next winner, go play KENO!


---
Congratulations to our Snapz! of the week winner: Akkrenskarin



If you want to have a chance to win next week, make sure to keep your Snapz! updated and current for the season.


---
Powerpets: Mega Money Madness Winners!
Today's winning Mega Money Madness number is: 9653

There were NO winners.

If you want to be a winner next time, check out the Mega Money Madness under the GAMES icon.


---
Atrocity: 6-16-21- Minor updates- future features
Hey all! Two updates within a week??? Whats up with that?

No seriously I've been tinkering on alot of things you can actually see cuz they're minor fixes/aestheitic stuff so Im still doing those randomly.

Some of the stuff I did-

~I did some forum tinkering/added more info/more threads (PLEASE use the forum... I put alotta work into it x.x)

~If you are having issues resetting your password to get into it- please message me and I'll see about fixing it to let you in. You have an account- already- I had to make them all manually.

~Seasons should now appear correctly in the sidebar.

~There are new pet Paints that will appear in habibi's holiday for the 4th of july and new years day (jan 1st) They are animated firework pets. They have two different names (Firework and Fireworks) but they are the same item and do the same thing.. I just needed to make two seperate items to have it show up on two holidays.

~There is a new calendar on the main page of the site- As you can see right now theres two- one at the top of the page and one at the current events area- The top one is temporary while we work on things so you dont miss events- Cuz once we're more established that whole top area will be gone and you can see the actual index page area instead.

Currently working on:

~Changing the Firepits on the maps to cook certain foods, like smores, hotdogs, marshmallows and fish- they will make different things depending on what items you have and where they're located.

~Possibly gonna Make human avatars for those who dont want to be an animal

~Making the closet look better

~Other minor things/fixes

Still waiting on

~Battling Code (with minpets/elements/bosses etc)

~Atrocity War Card game code

~ Spreadable avatar disease code

And more!


Its hard to remember everything when it comes to writing these out lol!!! Anyway as you can see Im hard at work. I thank all of you for your patience!

~Till next time!
---
Today is the last day items from Geek month and Towel day will be in shops! Make sure you grab what you need now!
---

After several days of digging, Velya and her crew made the discovery of a generation: beneath the dry crust of Dragonhome, the Obelisk dragons shed their rocky exteriors and joined the realm as its newest modern breed.



Obelisks Unearthed

The Dustcarve Dig has concluded, and the great discovery turned out to be a brand new dragon breed created recently beneath our very feet! Thank you to everyone who participated in what we felt was a really exciting and collaborative experience. What a great way to kick off our eigth year!

New Lore: Subterranean Secrets

Discover the Earthshaker's urgent necessity for creating the Obelisk dragons. Manifested during a time of great elemental upheaval, this new breed steps out into world of Sornieth with an earthshaking divine duty to carry out.

New Modern Breed: Obelisk

With this update, Flight Rising is introducing its first modern breed in nearly six years, the Obelisk! While all participants of the Dustcarve Dig event received a Dormant Obelisk Statue (which spawns one adult Obelisk), it will be possible to purchase additional breed change scrolls in the Treasure Marketplace.

The Obelisk is an uncommon breed (possessing a 25 day breeding cooldown) that eats seafood and insects. It can breed with all other modern breeds and wear all existing apparel.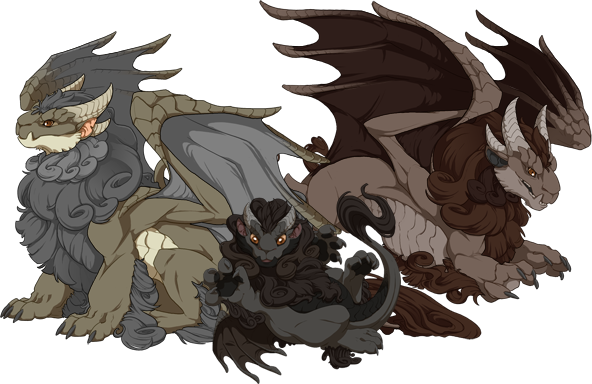 Obelisk Emoji and Vista
Obelisk Emoji and a Vista are now available. The vista can be found in the treasure marketplace




Event System

We hope everyone enjoyed the Dustcarve Dig, which was possible thanks to an entirely new event system we call Efforts. Efforts are, as you know, large sitewide campaigns that all active players can participate in to find items, turn them in, earn rewards, and even experience a mini-story together.

Dustcarve Dig was the first, but it will certainly not be the last event of this type. Now that we've developed the infrastructure for it, we can use it for new and exciting events in the future!

If you have any feedback for Dustcarve Dig itself or thoughts on improvements we can make in subsequent events, please let us know in the Suggestions forum or submit them directly to us through Contact Us using the 'Suggestions' category, and we'll be sure to take them into consideration!
---
Congratulations to raptor, who has just won the Ichu Lottery! The jackpot was worth 35,500 iP and the item prize was Magical Orange Lepardos Mirror Shard!

This week's item prize will be Love Teddy! Lottery is drawn every Wednesday.
---
Powerpets: Most Caring People!
Congratulations to the following people for handing out the most treats and toys this month:
First Place: huameifan
Second Place: apronlady

If you want to win, hand out as many treats and toys to other pets as you can! The next draw will be on the 15th of next month.


---
Powerpets: Pet Zone Weekly Winner
Every week, we will be selecting a random pet's blog from the Pet Zone. Only up-to-date blogs will apply for this.


This week, the award goes to Sydney, who went to the vet for a check up and milks some visits! -- (read the blog to find out more)

For having an up-to-date blog with cute pictures, they have earned their owner Romulus10242001 a free account upgrade! Congrats!

Make sure you don't forget to put your real life pet images in the Pet Zoneand ADD/keep UPDATED BLOGS to your pet images, so you have a chance to win!

Who knows, they might win the next weekly Pet Zone contest.


---


Brr! Your Pets are in for a sugary brainfreeze with this new line of Items from Frozen Treats. The Raspberry, Blueberry, Cherry, Grape, Kiwi, Lemon, Liquorice, Orange, Unflavored, and Mystery Snowda Floats are a delicious way to cool off on a hot summer day! All of these tasty floats were funded by @IcePrincess.

If you're lucky, you can also get these icy drinks as a reward from the Snowman Quest, and the Candy Quest will also be looking for them starting next week.