Latest News
IcePets: Revamps, Buffed Quests, and Potato-Y Friends


As spring draws near, more areas of IcePets have been cleaning up with some crisp new artwork; next in line is these six profile skins! If you own the Love Traptur, Woodland Friends, Party Animal, Default, Pirate Life, or the Plushie Collector Profile Skins, you're sure to love these revamped designs.




A new companion has been spotted in Terrafrost; say hello to your new best bud the Spud, funded by @LollyX. This goofy tater-themed companion is the perfect friend for you and your Pets! They'll be restocking at Jacobi's Companion Reserve, so be sure to keep your eyes peeled for them.




Starting this weekend, the Candy Quest will be doubling the daily limit of quests and prizes! You'll want to get as many sweets as you can, because this opportunity will be ending on March 7th, 23:59:59 IcePets Time.
---
Eqcetera: Club Additions & Breeding Edits
Happy surprise update, everyone!
° Club Edits
We see quite a few of you have already begun creating your own crossbreed! In total, we now have 11 Crossbreed Campaigns active with an array of wonderful names and breed pairings. We have added a few requested changes to clubs as well.
There is now a ¢My Clubs¢ tab that shows which clubs you own or are registered in.

Clubs are now ordered by how many members are registered. Those with more members will appear first in the list.

Club owners may now kick horses or members. If a horse is kicked and that is the only club the horse is registered in, the horse¢s stars will be removed.

Club owners may now close registrations for new members.

The club directory and club page banner should now look correct when viewed from mobile.
° Breeding Edits
We have also edited a previous rule to game-recognized crossbreeds where if you bred a parent breed to a crossbreed, you would produce that crossbreed. Ex. Appaloosa bred to an Araloosa produced an Araloosa. Now, these crossbreeds all must be 50/50 in their DNA % to display as the crossbreed. Ex. Araloosa must be 50% Appaloosa and 50% Arabian. This will only affect horses bred from this update onward.
This change also allows for crosses who do not have pure parents but also still have the required 50/50 DNA to show up as recognized crossbreeds.
°¯¸ Road Map
We hope you are as excited as we are about the changes we're making so we've linked the road map on the calendar page for easy access. The road map is a timeline of expected development for 2021 and can possibly change. Any changes will be noted in news posts.
Enjoy the rest of your day and we hope you enjoy the small update!
Cheers,
The Dev Team
---
Wajas: Inventory Page Updated
The Inventory page has been updated with a new filter widget that's lighter and faster than the old one, and works better on mobile. The new filter looks very similar to the old one, and you can still filter by type, tag, quantity, and name. The old "filter by specific item" dropdown is gone however, since populating it mean downloading the over 6,000 items we now have on the site. Downloading those took a while, and even worse caused the inventory page to fail on some mobile browsers, so the new page should make for a better experience all around. One slight difference is how the quantity filter works. By default it matches quantities greater than the number you enter, but you can click on the glyph to change it to if you want to search for items with less than the entered quantity.
---
Wajas: MINIGAME: Word Search
Hello, hello! First off, just wanted to note, all prizes excluding Herman's have been sent out from the live. Thank you everyone able to attend, I do hope to have another this month, but we're going to play this one from ear since my nephew is due any day now. If you haven't noticed yet, there's a poll up for users to pick their favorite name for our Festival of Frost NPC. HERE is the link, you've got a few days to vote. Finally, it's time for a very quick minigame! This time it's a word search. Everyone who completes it correctly will receive 2 doodlecorns - Julius and Romeo. These are the ones done for our FriendFest, and this will be the last game where they will be available until next time around. You have until 3/5 @ 12:30 PM to get your answers in. Please send all answers to account 4591 with your ID in the title. The words are all Wajas related things. This time I'm offering the word bank as a separate thing, you're free to use i
---
Ichumon: What Am I Results
Last week's round of What Am I has ended.

The item description was: A tasty strawberry flavored muffin with heart candy on the top.
The answer was: Love Muffin.

13 out of 15 Ichuans answered correctly.

A new round of What Am I has started. Good luck!
---
Congratulations to our Snapz! of the week winner: Iluvtrolls



If you want to have a chance to win next week, make sure to keep your Snapz! updated and current for the season.


---
Powerpets: Mega Money Madness Winners!
Today's winning Mega Money Madness number is: 8898

There were NO winners.

If you want to be a winner next time, check out the Mega Money Madness under the GAMES icon.


---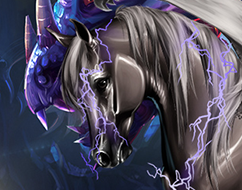 Good Afternoon, CE players!

March is here and we are thrilled to announce our theme for the upcoming month; Rainbow Space! We are continuing our monthly origin world spotlight to ensure CE's fantastic themes and original breeds get all of the love they desire along with ensuring all players have access to fun, free, and new genes. For those of you who are new to CE, a CE Original Breed is a breed released by the game for player creation. The genes associated with the breeds are available to be registered in player crossbreeds, so we find it to be very important to continue building upon these foundation breeds to ensure you all have the ability to create interesting, new crosses.

With that being said, this month's spotlight breed is the Nova! This is one of our all-time favorite breeds and originally released in the first version of CE, also known as Marvel Horse. The Nova received a new set of wings, mane/tail, feathering, and a horn; WOW! Ellastasia sure was busy! A handful of colors will be available on the Nova moving forward, but additional recolors will be circulating throughout the month of March in the Magic Shop. For those of you interested in a spotlight package containing all of the March genes - we will have a package available starting March 1! This package will include all of the new Nova genes, March body colors, and the new Splash Body Marking recolor.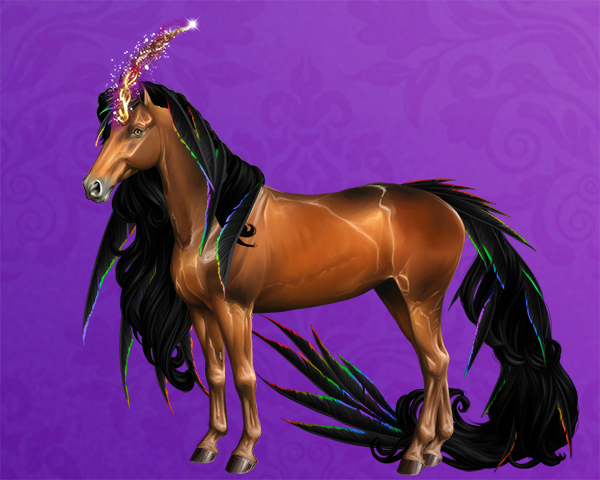 Next up, we have beautiful new genes and wearables available in the Cash Shop! These genes also follow the "rainbow space" theme and will be available through the month of march as packages and individual items.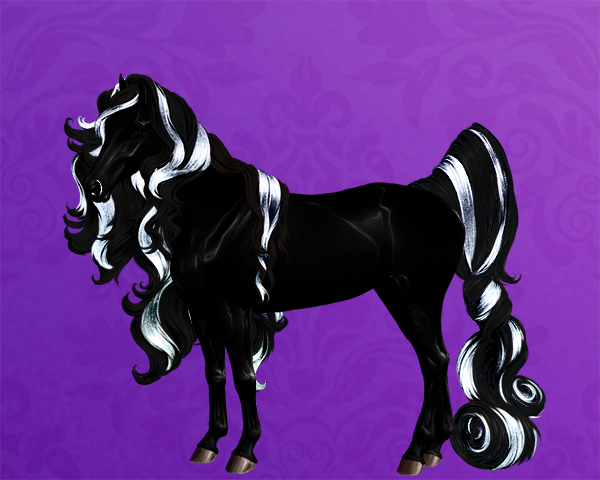 DEVELOPMENT NEWS

Onto development! We are hard at work setting up a new interactive new player guide to help ensure our new players have a thorough understanding of the many features CE has to offer. This is our primary focus before moving onto our remaining plans for Q1 (March).

Remaining Tasks
- Continue tweaking tradeboard/gift process for holding barn spots
- Expiration time for trade lots, including offers
- Expiration time for gift offers
- Horse creation updates
- Misc admin updates

As a reminder, CE is currently in live development and bugs are to be expected. We do our best to balance the resolution of bugs while also focusing on improving upon current features and continuing to brainstorm new features for upcoming release!

We have also finalized development goals for Q2. Many of them will remain a secret until their official release, but here is a preview of a few things we intend on releasing:

- Additional interaction options in companion forest
- Modification of companion forest to allow hourly turns rather than daily
- Adjustments to the notification system
- Elder Quest modifications
- *2 secret, larger features*

Our development plans are subject to change depending on bugs, important suggestions, and player feedback. At the end of the day maintaining current features will always take priority over new areas to ensure CE remains as bug-free as possible!
Thank you for reading today's update. Be on the lookout for further announcemens!
CE STAFF

---
Happy Birthday to all Skoilos!


Every Ichumon Species Day Duke will be giving away a Birthday Cake for that day only. Today is no exception! Claim your Skoilo Birthday Cake at the Prize Claim Center!




On Ichumon Species Days you have a 50% chance of getting that Ichumon's Berry from the Luwhut Tree in Fargo's Forest. If you don't have a Skoilo, you can now!




If you have a Skoilo enjoy free healing of HP and Diseases at the Heal Center in Lightest Tower all day long for your Skoilos.
---
Powerpets: Pet Zone Weekly Winner
Every week, we will be selecting a random pet's blog from the Pet Zone. Only up-to-date blogs will apply for this.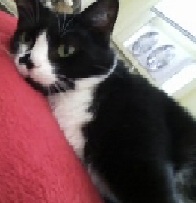 This week, the award goes to Josie, who is a very mighty kitty! -- (read the blog to find out more)

For having an up-to-date blog with cute pictures, they have earned their owner CNikki a free account upgrade! Congrats!

Make sure you don't forget to put your real life pet images in the Pet Zoneand ADD/keep UPDATED BLOGS to your pet images, so you have a chance to win!

Who knows, they might win the next weekly Pet Zone contest.


---
Powerpets: Aquarium Weekly Winner
The bait has been hooked, fishing line cast and we have caught k8k for this weeks aquarium contest winner!

....Congrats!

¢¢Remember, make sure you feed and care for your fish/tank and collect your nessies bonus daily, if you want a chance to win next week!


---
IcePets: Poetry Contest Winners!
The votes for the Poetry Contest have been tallied. Each and every poem we received was amazing -- the IcePets community is simply bursting with creativity! It was a very close call, but now, it's time to reveal the winners!




In 3rd place we have @Tchaikovsky! You will receive the Bronze Contestant Trophy, 100 Amourok Shop Points, 1 random Heart Breaker prize from 2020, a copy of Passionate Poetry, and 75,000 IcePoints. Nice work!




Up next in 2nd place, we have @Wooziness! You will receive the Silver Contestant Trophy, 200 Amourok Shop Points, 1 random Heart Breaker Prize from 2020, a copy of Passionate Poetry, and 100,000 IcePoints. Great job!




And finally, 1st place goes to... @MidnightHour! You will receive the Gold Contestant Trophy, Golden Competitor Stamp, 300 Amourok Shop Points, 1 random Heart Breaker Prize from 2020, a copy of Passionate Poetry, and 150,000 IcePoints. Congratulations!




Everyone who submitted a poem will be featured in the Passionate Poetry book! If you'd like to get a copy, check the shelves of Ralph's Page Turners; it'll be restocking periodically. It will also be rewarded by the Weapons Quest, and requested by the Book Quest in one week.

The winners should be able to find their prizes already awarded in their Inventory. Thank you to everyone who participated in this year's poetry contest -- we hope you had fun and will join us again next year!
---
Eqcetera: Clubs, Create a Breed, and Grade Horses!
Hello everyone and happy update day! Today, we are rolling out part 1 of 2 for the Club and Association changes. This update comes with quite a few changes to crossbreeds and even introduces something very exciting¢¦
¢­ Clubs
In V2, clubs were only used to bring together those who share a common interest in something and only offered a forum and the possibility to register horses. We wanted to expand the idea of clubs to not only create more of a community but also expand crossbreed gameplay. You can view more information about club features in this help site article.
With the launch of V3 clubs,  there are a few club types to know about:
Community Clubs: Clubs can opt to be just community-based, meaning the club is used as a place to talk about a common interest. Ex. A club that focuses on equine news. These types of clubs can register horses and default to accepting all breeds and all disciplines.

Breeding & Discipline Clubs: Those who wish to have a club with breed or discipline guidelines can do so in the club settings. Clubs can choose to be breed- and/or discipline-based. Horses can be registered in these clubs and club owners may pick what breed(s) or discipline(s) are allowed. Ex. Flaxen Breeders Club or Show Jumping Arabians Club. 

Crossbreed Clubs: There is now a new club type which is replacing the Crossbreed Association (Read more in Associations below). These clubs are for each of the game recognized crossbreeds where these breeds can be registered. These are game owned and auto accept all those who register. A crossbreed-specific club will be created for each new game-recognized crossbreed. And speaking of...
°´ Create Your Own Game-Recognized Crossbreed!
On top of these changes to clubs, we have added in a new highly requested feature which we are calling ¢Crossbreed Campaigns¢. In the past, players have often asked about being able to create their own crossbreed and previously, we did not have a good solution or answers as to how or when this would be possible. Worry no more! Starting today, it is now possible for players to join together, create, and crowdsource their own in-game crossbreed which will receive its own artwork and breed designation! Do you want to breed Arabaloosadales, maybe Mustland Ponies, or even Friesian Cobs? Now you can! Through Crossbreed Campaigns, you will be able to create any crossbreed you want, but there are some steps required to do so. More information about Crossbreed Campaigns can be viewed here.
¢¨ Club Stars
Since crossbreeds no longer have a registry, they now earn stars by being registered with a club. Horses that get their stars from a club now have purple stars rather than yellow stars. Along with this star change, all horses registered in a club will also receive stars such as generic crossbreeds or purebreds that aren't in a registry. Note, if a horse is in a registry it will display yellow stars, not purple.
° Old Clubs
Clubs that had previously been made have been transferred with members and horses registered removed. Fees and images have also been removed and all clubs are currently set to private. If you had a club in V2 that you no longer wish to keep, please message Curly or email support to have the refund credited to your account. Refunds for V2 clubs will be honored until March 28th, 2021.
° Breeding in New Colors
We have also added in a new and exciting change which involves being able to breed colors back into any breed. This was previously done using the Brumby in which breeding any color into a Brumby was possible. Now, it is possible to breed any color into any breed, but this comes with a few things to know.
Breeding Back & Grade Horses
Breeding back to at least 95% of a breed now means that horse will convert to 100% of that breed. For example, if you bred a line of Clydesdale crosses to have tobiano and eventually had one with 95% Clydesdale and tobiano, it would revert to 100% Clydesdale and display a tobiano pattern on the Clydesdale base. Horses that have had a color bred into them like this will have a designation of ¢Grade¢ in front of their breed, Ex. Grade Clydesdale, and are not eligible for association registry.  Read more about grade horses in this help article.
With grade designation, the breed standard for grade horses will be based on the purebred they are shown as. Ex. A Grade Clydesdale will have a breed standard the same as a purebred Clydesdale. This is to simplify the breed standard calculation for players to more easily know what their grade horses ideal BS is. In order to get a star value for grade horses, they must be registered into a club.
Artwork
As color is bred into a breed, artwork will be made for them. Should you be able to create a grade of a breed that needs artwork done, please post to this forum post with a link to the horse. These artwork layers will be made on a rolling basis and, depending on demand, may take up to 1 month.
Wild Type Breeds
In-game we currently have two ¢wild¢ breeds, Brumbies and Mustangs. Brumbies have previously been able to have color bred back into them but never could be 100% Brumby even though they displayed the Brumby base. With the change of breeding in color and ¢grade¢ designation, we have excluded these wild breeds from being labeled as ¢Grade,¢ meaning they will be able to be registered in their breed association. Now, any Brumby or Mustang that is 95% Brumby or Mustang will revert to 100% purebred and have their Breed Standards based on Brumby or Mustang standard and will not have ¢Grade¢ before the breed name.
°¥ Associations
Associations have been renamed to ¢Breed Registries¢ and will only be used to register purebred horses.  We have also removed the discipline associations so players may make their own clubs centered around a discipline or a breed and a discipline. We will be completing associations in next month's update with personalities and careers. 
° Forums
Several of the forums have been cleaned and some categories have had rule updates. Please read all rules before posting.
Hope you all enjoy these changes and have a wonderful weekend!
Cheers,
The Dev Team
---
Powerpets: Poetrist and Catlegs Stuffies
Our little family has been saddened these passed few months with the deaths of Poetrist and catlegs. To honor both of these lovely and kind ladies, we had a stuffy made for each of them. Both can be found under Player Stuffies in the Upgrade Centre. You will be forever missed by many.





---
It's time to head over to Miles Magic Box and see if you can figure out which item is depicted by the artistic rendering. If you do before next week, you'll win a cool prize!